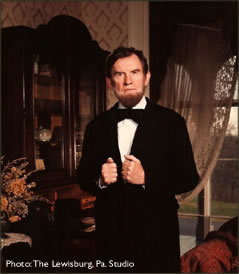 One of Gettysburg, Pennsylvaniaӭost recognized겥sidents is nationally-renowned Lincoln actor and Lincoln historian, James A. Getty.
Whether taking the stage in Gettysburg, or in cities and towns across the nation, Getty captivates audiences of all ages with his award-winning interpretation of our country౶th President.
By
special arrangement
, Jim Getty can perform for your group in Gettysburg⠩n your own hometown.
Getty offers two programs: one, a very specialized
leadership program
for corporate executives and managers, and a second
program for general audiences
.