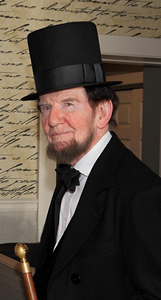 Our 16th President comes to life as Jim Getty steps on-stage for general audiences in the award-winnin
g,
one-man performance, ֩sit With Mr. Lincoln.�
This program is available to groups only, by
special arrangement
in Gettysbur
g,
or in your own hometown.
Photographs and a Presidential ⥳s conference�follow this memorable presentation.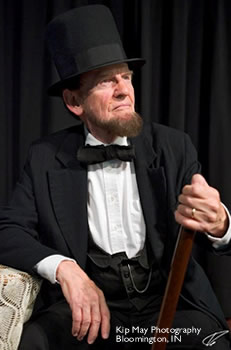 When Jim Getty takes the stage in ֩sit With Mr. Lincoln�
is
Abraham Lincoln.
Getty brings Lincoln to life: audiences see and hear the President recount his homespun stories of youth, his recollections of his personal and political life, and his special anguish for Gettysburg.
For years, Getty has enlightened and entertained audiences across the country. And, as a noted Lincoln historian, he specializes in uniquely tailoring his programsã°¥cifically for your meetin
g,
convention,
o
r other special event.
Audiences aboard the steamboat
Mississippi Queen
, at the
National Theater in Washington
, and at the
Reagan Presidential Library
have delighted in Jim Getty൮ique, heart-warming interpretation of America౶th President.
At the
Library of Congress
, the
Indianapolis Rotary Club
, and
Cornell University
, 襡tergoers衶e laughed along at the President೰ecial brand of humor. And, they have felt the Commander-in-Chief௷n personal torment over the difficult decisions he faced in preserving the Union.
Jim Getty has presented "A Visit With Mr. Lincoln" to numerous organizations, including:
The Union League of Philadelphia
Gerald R. Ford Presidential Museum
San Francisco Rotary Club
The Union League Club of Chicago
The Kennedy Center
Civil War Roundtable of Atlanta
Lincoln Group of Washington, DC
Republican Club of Staten Island, NY